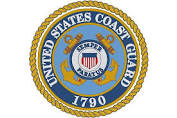 A special Thank You to all the men and women who sacrificed so much so we may enjoy our freedoms today.  Many alumni members through the years have been or are current members of the Armed Forces.
We wanted to included all our alumni members but records/sources were not available.  We did find a copy of the ARKPORT WALL OF HONOR sign, which was located outside of the old post office on Main Street in Arkport.  The bronze sign below lists those killed in action during WWII and other conflicts. This sign hangs in the lobby of Arkport Central School. Also below is a page of pictures was put together by Walter Sherner, Arkport District Clerk showing pictures of men in WWII . We have typed the list from the board and the sign and the picture page and included the year they graduated if we know.  Please remember that many young men and women did not complete their high school education, but enlisted in the service during WWII.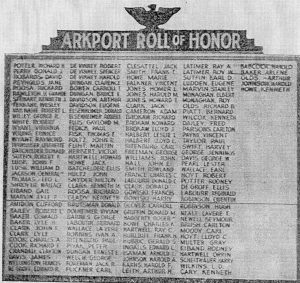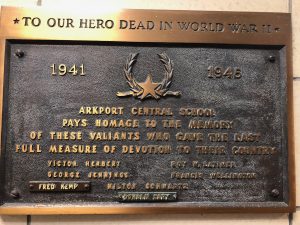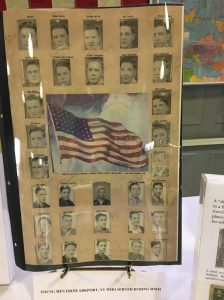 Arkport Wall of Honor Sign
Richard Potter, Donald Perry '43, David Robords '40, Jane Reynolds, Richard Roosa, LeGrande Rawleigh, Kenneth Stewart '29, Wesley Tennant, Robert L. Van Name, George R. Willey '43, Robert White '42, Virginia Wyant Yochum '31, Eunice Young '30, Raymond Wyant '37, Leverette Terwilliger, Donald Batchelder '33, Robert F. Sutkin, John Lusk, William D. Lusk, General Jackson, Leo L. Thomas, Wallace Shroyer '43, Gail Eiband '43, Lyle F. Marvin '36, Clifford Amidon, Robert Bailey, Oswald Baker, Lyle Baker '40, John F. Clark, Lyle Clark '36,Charles Cook '37,Richard Cook, Clayton Crandall, James Davis, Francis O. Wellington '41, Edward DeGroff '37
Robert DeVinney '37, Spencer DeVinney '41, Harold DeVinney, Clarence Dungan ' 28, Carroll T. Bowen, Bruce E. Dungan '43, Arthur Davidson, Eugene Davidson, Donald Elsenheimer, '38, Robert Elsenheimer, 35, Gaylord Ellis, Paul Fedick, Thomas E. Fisk, John R. Foltz, Martin Flint ' 38, Victor, Herbert, Howard Hartwell '43, Jack "Bing" Howe '43, Ellis Batchelder ' 40, John Hultz, Milton Snyder, Kenneth M. Clark '40, Richard Roosa, Kenneth Glady, Donald Brutzman, Vivian Dolheimer, George Barnes '42, Bernard Labourr 32, LaVerne Wallace '33, Ivan A. Robbins, Paul Ritenburg '38, Peter Piyak, Ernest E. Dungan '41, George Welch '41, Jack R. Foreman '37, Carl Flickner
Jack Clesattel, Frank T. Smith, Marie Howe Brands '41, Vincent Falkner, Homer Jones '41, Harold Jones '43, Howard Jones, Jack Clark '38, Adam Cameron, Richard Brokaw, Howard Brokaw, Lloyd Brokaw, Leslie L. Halbert, Lloyd Halbert, Carl Ritenburg, George Freeman, John Williams, John E. Hall, Rowland Smith, Charles C. France, Donald LaBourr '35, Donald Clark '39, Francis Gowiski '39, Harry Gowiski, Carroll Glover, 41, Donald M. Griffin '37, Roger Haggerty '43, Charles Howe '39, Ray C. Hartwell, Frank Hurlbut, Gerald S. Hubric '22, Edward C. Ingalls, Arnold L. Isaman, Harold A. Johnson '40, Harold F. Karns '33, Arthur H. Leith '42
Ray A. Latimer '37, Roy W. Latimer, Earl D. Sutfin, Eugene Ludden '40, Stanley Marvin, Elbert Monaghan, Roy Monaghan '37, Richard B. Olds, Bernard Piatt, Kenneth Wilcox, Fred Dailey, Carlton Parsons '42, Vincent Payne, Paul Taylor, Harvey Swift, George Jennings, George Davis, Lester Pearl, Earl Wallace, Rodney Potter, Ellis DeGroff '37, Reginald Labourr, Qeuntin Robinson, Hugh Robinson, Lavere Neale '39, Seymour Newell, Carlton Brush '38, Carl Moody, Gray Multer '44, Roderick Eiband '44, Orrin Hartwell '44, Harry Scheithauer '44, LD Wilkins '36, Kenneth Cary '44, Harold Babcock, Arlene Baker, Arthur Olds '39, Harold E. Johnson '40, Kenneth Howe '44, George Lawrence, Elihu Reynolds, Leon Neu '44, Robert Elsenheimer, Donald Cary '41, Milton Swarts, Richard Roosa, Ernest Dungan '41, Lloyd Brokaw, Harold Karns, Virginia Wyant '31, Marie Howe '41.
Bronze sign:  Victor Herbert, KIA – George Jennings, KIA – Roy W. Latimer, Class of 1932, KIA – Francis Wellington, Class of 1941, KIA – Milton Schwartz,  Class of 1941, KIA – Donald Cary, KIA and Fred Kemp, VietNam War, KIA
We also found additional information on Roy W. Latimer, KIA February 18, 1945 during World War II in the US Army as a Technician fourth Class with the 318th Infantry Regiment, 80th Infantry Division and was awarded the Purple Heart.  Roy was buried in Plot G, Row 5, Grave 7 in Luxembourg City, Luxembourg.  (This is an American Battle Monuments commission location.)
Page of pictures: 
Top Left:  Lyle Barnes, Jimmy Davis, George Welch, Art Leith, Ernie Dungan
Second Row: Bob Bailey, Francis Wellington, Elbert Monaghan, Gene Davidson, Jack Clesattel
Third Row: John Folts,Don Carey
Fourth Row:  Bob White, Jack Jackson
Fifth Row: ? Townsend, Jack Aldrich
Sixth Row: Ray Wyant, Francis Gowiski, Ray Hartwell, Ellis Batchelder, Paul Ritenburg
Seventh Row:  Frank Smith, Dick Olds, Jack Clark,  Charlie Howe, Ed DeGroff
Eighth Row:  Homer Jones, John Clark, Don Griffin, Martin Flint, Ellis DeGroff
Francis Wellington, class of 1941, CPL Marine Corp died in combat 12/12/1943
Fred Kemp, class of 1968, US Marine  died in combat 5/8/1968
Eunice Young, Class of 1930, US Army, Lt. Col., Korea (Nurse, POW)
E. Donald Batchelder, Class of 1933
Harold Karns, Class of 1933
Robert Elsenheimer, Class of 1935, US Army
Donald LaBourr, Class of 1935
Charles Cook, Class of 1937 US Army
Robert DeVinney, Class of 1937, US Army
Donald Griffin, Class of 1937, US Army, Staff Sgt.
Roy Monaghan, Vlasss of 1937, US Army Air Corp
Raymond Wyant, Class of 1937, US Army Air Corp.
Carlton Brush,Class of 1938, US Army Air Force
Jack Clark, Class of 1938, US Army 
Donald Elsenheimer, Class of 1938, Air Corp.
Ronald Mullikin, Class of 1938, US Army, Awarded the Bronze Star
Paul Ritenburg, Class of 1938, US Army
Arlene Baker Wisniewski, Class of 1938, US Navy
Donald Clark, Class of 1939 US Army
Martin Eiband, Class of 1939
Francis Gowiski, Class of 1939, US Army
Charles Howe, Class of 1939, US Army
Arthur Olds, Class of 1939, US Navy, South Pacific, WWII
Albert Ellis Batchelder, Class of 1940, US Army, S SGT WWII
Raymond Hartwell, Class of 1940, US Navy
Eugene Ludden, Class of 1940, US Army
Kenneth Clark, Class of 1940, US Army 
Donald Cary, Class of 1941, Paratro oper
Marie Howe Brands, Class of 1941, US Navy
Ernest Dungan Class of 1941, US Army
George Barnes, Class of 1942, US Navy
John Foltz, Class of 1942, US Army
Arthur Leith, Class of 1942, US Navy
Carlton Parsons, Class of 1942, Air Corp
Robert White, Class of 1942, US Navy
Howard Hartwell, Class of 1943, US Army
Jack "Bing" Howe, Class of 1943, US Navy, 1943-1946
Orrin Hartwell, Class of 1944, US Navy
Kenneth "Nip" Howe, Class of 1944, US Navy 1944-49, US Army 1949-53 
Dorr Olds, Class of 1945, US Air Force
Stanley Pfaff, Class of 1945, US Army
Leon White, Class of 1945, US Army
Robert  Wyant, Class of 1945, US Navy
James Piatt, Sr. Class of 1946,US Navy
Herman Lawrence, Class of 1947, US Army
Robert Meyers, Class of 1947, US Air Force
Theodore Robinson, Class of 1947
Charles Wellington, Class of 1947, US Army, Korean War, SSG
Leonard (Batch) Batchelder, Class of 1947, US Army, Korea
James Fuller, Class of 1948, US Navy
DuWayne "Dewey" Howe, Class of 1948, US Navy
William T. Pryor, Class of 1948, US Marine, served in Korea
Louis Crossett, Class of 1949, US Air Force, 1955-1959
LaGrande Dean McCarthy, Class of 1949, US Marine
Dale Pfaff, Class of 1949, US Air Force
Charles Barnes, Class of 1950, US Army
Lucy Wyant Harper, Class of 1950, US Air Force 1952
Clair Johnson, Class of 1950, US Air Force
Eugene Ellis, Class of 1951, US Army
Franklin Griffin, Class of 1951, US Army
Paul E. Loree, Class of 1951, US Army, Korean Police Action
Thomas G. Loree, Class of 1951, US Army, Korean Police Action, Honorably Discharged 1957 as a Sergeant
Nelson Whiteman, Class of 1951, US Army
Dean Piatt, Class of 1952, US Air Force, retired 1977 – Major
Carl Youngs, Class of 1952, US Army
Robert Libbey, Class of 1953, US Marine
Thomas Hoeffner, Class of 1953, US Marine
Donald Karns, Class of 1953, US Army
Robert Auckland, Class of 1954, US Army
Graham Barnes, Class of 1954, US Army
Grant Barnes, Class of 1954, US Army
Charles Griffin, Class of 1954, US Army
Philip Holmes, Class of 1954, US Army, 1954-1956
Roswell "Tim" Timmerman, Class of 1954, US Air Force 1955 -1959
Herbert Grimm, Class of 1957, US Navy, 1958-1962
Lloyd Henry, Class of 1957, US Army
Charles Roff, Class of 1957, US Navy
Richard Smith, Class of 1957, US Army, Vietnam and Cuba
Henry J. Wulforst, Class of 1957, US Army
Monroe D. Prentice, Class of 1958, US Navy, 1958-1082 – Retired
Dwight Burger, Class of 1959, US Navy
Thomas Falzoi, Class of 1959, US Army – 1963-1968
John Hurlbut, Class of 1959, US Army – 1963
Kenneth Griffin, Class of 1959
Robert Tobey, Class of 1959, US Navy, 1963-1967
Gerald Prentice, Class of 1960, US Air Force
James Roosa, Class of 1960
Mickey Devlin Crowley, Class of 1961, US Navy, 1961-1964
Donald Glover, Class of 1961, US Army – 1964-1966
Gary Falzoi, Class of 1962, US Navy
Linda McKibben Johnson, Class of 1961, US Navy
Philip Dunham, Class of 1963, US Army and Army Reserves
Thomas Dunn, Class of 1963, US Army, January 1968 – January 1972
Jack Hoerner, Class of 1963, US Army
John Hubric, Class of 1963, US Army
James Lehman, Class of 1963, US Army
David Terwilliger, Class of 1963, US Army 1965-1967
Terence Terry Allison class of 1964
Ronald Roosa, Class of 1964
Ronald Strobel, Class of 1964
Jack Bailey, Class of 1965
Ronald Faulkner, Class of 1965
Donald Gates, Class of 1965, US Navy
D. Edward Howe, Class of 1965, US Army, VietNam
Joel "Butch" McKibben, Class of 1965  US Navy
Charles Schwarz, Class of 1965, US Army
John Senka, Class of 1965, US Army
Charles Williams, Class of 1965, US Army
Duane Burley Class of 1966
Harold Ellis, Class of 1966, US Air Force, 1966-1978
Fred Calnan, US Army,  class of 1966
Roger Griffin, Class of 1966, US Army
Jack Howe, Class of 1966, US Marine
John Marcus, Class of 1966, US Army
Roger Wing, Class of 1966
Ricky Whitmore, Class of 1966, US Army 1967-1969 
Douglas Baker, Class of 1967, US Marine
Dan Faulkner, Class of 1967, US Army
Mary Roosa Forshee, Class of 1967
Daniel Hartwell, Class of 1967, US Army -VietNam
William Jones, Class of 1967, US  Air Force
Frederick Kemp, Class of 1967, US Marine, KIA VietNam, May 8, 1968
Donald Kennell, Class of 1967,  US Marine
Larry Latimer, Class of 1967, US Air Force, 1971-1975
William Scott Pryor class of 1967
Richard Hartwell class of 1968
Patrick Mahany class of 1968, US Army, in 1969 and graduated flight school in 1970. He served one tour in Vietnam from April 1970 to April 1971 where he flew 1200 combat hours. He was shot down three times and earned a Bronze Star and a Purple Heart.
Thomas McKendrick, Class of 1968, US Army
Thomas Shroyer class of 1968
William Stewart class of 1968
Nelson Williams class of 1968
Austin Briggs class of 1969
John Perry, Class of 1970, US Marine, E6-1971-1976
David C. Gates, Class of 1970, US Army
Thomas Hoerner, Class of 1970, US Air Force 1971-1975
William Karns, Class of 1970, US Marine, 1970-1974
Garold Poyer, Class of 1970
Mike Pryor Class of 1970
Lance Schroeder, Class of 1970,US Air Force
Tracy Stephens, Class of 1970, US Air Force Academy, US Air Force, 6 yrs active duty
Mary Ellen Elsenheimer Moyer-Hutchinson, Class of 1971, US Navy, Deceased
Randall Baker, Class of 1971, US Army 1972-1975  1983-1993
Kathleen Conklin, Class of 1971, US Air Force
Joseph Katsur, Class of 1971, US Army/Army Reserve
Michael Mansfield. Class of 1971, US Air Force, 1976-1995 retired as a MSGT
Catherine Marvin Rabico, Class of 1971, US Air Force – 1972-1977
Emma Foster Branigan, Class of 1972, Gulf War
Thomas Hess, Class of 1972, US Air Force
Robert H. Kilbury, Class of 1972, US Air Force 1976-1978
Bryan Schroeder, Class of 1973, US Air Force
Stephen Hoyt, Class of 1973, US Air Force
Audrey J. Randall Whiting, class of 1973  US Army  Disabled
Gregory Hollister, Class of 1974, US Air Force
Gregory, Rowe, Class of 1974
Paul Conklin, Class of 1975, US Navy
Deanna Blovsky Kilpatrick, Class of 1975, Gulf War
Wanda Gamo Bassano, Class of 1976, US Air Force
Corrine Munn Chausse, Class of 1976, US Navy
Edward Dries, Class of 1976, US Navy, Active
Edgar Foster, Class of 1976
John Forster, Class of 1976
Steve Franklin, Class of 1976, US Navy
James Randall, Class of 1976, US Air Force – 1979-2006 Command Master Sergeant
R. Scott Chubon, Class of 1977, US Navy, 1977-1983
Jay Glover, Class of 1977, US Army Special Forces
Timothy Kramer, Class of 1977, Gulf War
Mary K. Loree, Class of 1977, US Army, 1988-2009
Stanley Rowe, Class of 1977
Terry Smith, Class of 1977, Gulf War
Daniel Zayac, Class of 1977, US Air Force
Russell Booth II , Class of 1978, US Air Force 1979-2004
Leon "Ben" Clark, Class of 1978, US Navy
David Dunham Class of 1978, US Navy
Melford Greene, Class of 1978, US Navy
Raymond Hubbard,  Class of 1978, US Air Force, 1978-1982
Aden Ingalls, Class of 1978, US Army, 1978-1998
Patricia Johnson, Class of 1978,US Navy   
Douglas Meyers, Class of 1978, US Army, E-5 Sergeant
Craig Pfaff, Class of 1978, US Air Force – 12/1980-1/2001
Craig Stauring, Class of 1978, Gulf War
Jay Sugden , Class of 1978
Bobby Watts Tibbits, Class of 1978, US Air Force Nurse
Kevin Bridge, Class of 1979, US Air Force 1981-1985
Allan J. Lucas, Class of 1979, US Navy, Retired/Deceased
Donald VanWinkle, Class of 1979, US Navy
Daniel Jordan, Class of 1980, US Army Nurse Corps, Capt.
David Vitrano, Classs of 1980, US Army, MP Corps, SPC, Gulf War
Robert Forester,Class of 1980, US Navy
Thomas Lawton, Class of 1980, US Air Force, Gulf War
Steven Lunn, Class of 1980
Harold Vosburg, Class of 1980
Timothy Haenisch, Class of 1981, US Navy 9/1981-11/2002
David Jamison, Class of 1981
Scott Preston, Class of 1981, Gulf War
James Rowe, Class of 1981
Robert Widmer II, Class of 1981
John Phelps, Class of 1982, Gulf War
Mark Staub, Class of 1982, US Navy
Leon Spike, Class of 1983, US Army Staff Sergeant, Gulf War
Kimberly Woodworth Fitzgerald, 1983
Robert Bly, Class of 1985
Ronald Gilmore, Class of 1985
Michael Lunn, 1985
Michael Nephew, Class of 1985
Michael Orman, Class of 1985, Gulf War
William Bly, Class of 1986
Steven Bridge, Class of 1986, US Army 1986-1992
Timothy Jamison, Class of 1986
Billie Jo Morgan Thompson, 1986
Patrick Griffin, Class of 1987, Gulf War
Alan Ingalls, Class of 1988, US Marine, Gulf War
Joel Stauring, Class of 1988, US Army
Samuel Edwards, Class of 1989, USN, Army Middle East, Iraq (4 Tours) Purple Heart
Christopher Kennell, Class of 1989, US Air Force
David Nye, Class of 1989, US Air Force 1989-1995, AF National Guard 1995 – 2015 Retired
Brian Pritchard, Class of 1989, Air Force
Christian Munn, Class of 1990, US Army,  Bosnia
Michael Stauffer, Class of 1990
Michael Davies, Class of 1991
Matthew Eymer, Class of 1991, US Navy
John Jamison class of 1991, US Navy
John "Nick" Mosko, Class of 1991, US Army
Scott Murray, Class of 1991, US Navy
Myron "Micky" Rider III, Class of 1991, US Air Force 1991-1995
Ronald Bohlayer, Class of 1992, Marine
Christopher Hurlbut, Class of 1992
Jenna Wells Meyers, Class of 1992, US Army, Retired
Michael F. Muhleisen, Class of 1992, US Air Force, 1993-2013
Jeremy Badeau, Class of 1993, US Navy
Shannon Davis, Class of 1993, US Army
Chad Graves, Class of 1993, US Navy
Matthew Quant, Class of 1993, US Army
Lee "Tony" Apostale, Jr., Class of 1995, US Navy
Toby Hansen, Class of 1995, US Army
Jeremy Bagley, Class of 1996, US Army
Nathan Barr, Class of 1996
Philemon Jones, Class of 1996
Bradley Wellman, Class of 1996, US Navy
David Cain, Class of 1997, US Army
Randy Jamison, Class of 1997, US Army
Jeremy Morgan, Class of 1997
Shane Stevens, Class of 1997
Arlene Baker Schouweiler, Class of 1998, US Navy
Rachel Baker Thomas, Class of 1998, US Army
Lynn Monaghan Sinsebox, Class of 1999, US Navy
Benjamin Perry, Class of 2000, US Army, 2005-2013
Jessica Jamison, Class of 2000, US Army
Joseph Shinebarger, Class of 2000, US Army
James Gentile class of 2001
Jonathan Grillo class of 2001
Angela Ebert Bartlett-Kolewe, Class of 2001, US Army
Ambur Hurlbut class of 2002, US Army
Rachel Wolfanger Schramm Class of 2002
Kyle Baker,  Class of 2003, US Marine
Jerad Canfield, Class of 2003, US Army
Jess Gowiski, Class of 2003
Leo Seamon class of 2003, US Air Force
Rachelle "Shelly" Smith, Class of 2004, US Air Force
James Amell, Class of 2005,  US Army
Laura Margie Nephew Hunt Couball, Class of 2005, US Air Force, Master Sergeant
Luke Kull, Class of 2006, US Marine
John Lockwood, Class of 2007
Brian Gowiski, Class of 2008, US Marine
Kelvin LaPierre, Class of 2008
Chelsea Sellers, Class of 2009, US Army 147th RTI
Brandon Smith, Class of 2008, US Marine
Sean Stillman, Class of 2008, US Marine
Zach Aumick, Class of 2009, US Marine
Sean Drury, Class of 2010, US Army
James Lanze, Class of 2010, US Army
Branden Erskine class of 2011, US Marine
Cody Mackey, Class of 2011, US Army
Douglas Smith, Class of 2011, US Marine
Daron Butcavage. Class of 2012, US Army
Tanner Gomez Snyder class of 2012
Joshua Spoth, Class of 2012, US Marine Corp.
Gar Chatain, Class of 2014, US Army
Austin Geist, Class of 2014, US Army
Phillip Hurlbut , Class of 2014, US Marine Corp.
Jamie Lemen, Class of 2015, US Army National Guard
Justyn Schumaker class of 2015, US Navy
Hunter Erskine, Class of 2016
Noah Hoyt, Class of 2016, US Army
Rocco Hurlbut, Class of 2016, 
Jenna Theilen, Class of 2016, US Air Force
Emily Jones, Class of 2017
Karman Hoyt, Class of 2018, US Air Force
Elizabeth Mikolajczyk, Class of 2018, US Air Force
Riley Shinebarger, Class of 2022, US Marine
Andrew Badeau, Class of 2023, US Navy
Updated 7/9/2023