Our usual course of action is to present the Secretary's Minutes and the Treasurer's Financial Statement at the Annual Arkport Banquet in July, along with the election of new officers.
This year Marjorie Osborn, Vice President and Heather Clark, Treasurer, have decided to stepped down from their positions as officers.  Marg has served as Vice President since 2016 and Heather took the treasurer's position last year, for one (1) year.  We want to thank both these ladies for all their hard work and dedication to the alumni.
As there is usually a nomination and vote at the Annual Banquet Meeting for officers, and with the cancellation of this event, current officers nominated interested people and a vote was taken.
Your 2020-2021 Arkport Alumni Officers are:
President, Linda Wellington Burdett, Class of 1969
Vice President, Brenda Smith Porter, Class of 1987
Secretary, Tracie Hoyt McCarthy, Class of 1997
Treasurer, Cathi Crossett Van Iderstine, Class of 1976
Officers will begin the new year on August 1, 2020.  Welcome new officers!
Attached is the Treasurer's Report that would have been presented at our Annual Banquet in July. Just click on the report files an or drag each document to your desk top for review. If you have any questions or concerns, please call my cell # at 607-368-8222 or drop me an email at arkportalumni@arkportcsd.org .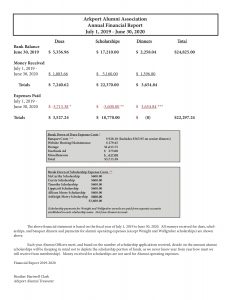 Thank You to all our members for their continued support in paying dues and also making donations to the scholarship fund.
Linda Wellington Burdett
President